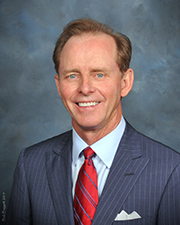 13577 Feather Sound Drive, Suite 400
Clearwater, FL 33762
Phone: (727) 572-1400
jkirkland@cbiz.com
http://www.cbiz.com/tampabay
Jack is the Tax Lead Managing Director of CBIZ MHM. Prior to founding the legacy firm in 1991, Jack spent ten years with a big four accounting firm.
Jack provides leadership to the tax group based on extensive experience that spans a full range of tax issues, including mergers and acquisitions, corporate reorganizations, multi-state tax planning, S corporations, partnerships, LLC consulting, entity formation and estate tax planning. Jack has represented clients with the Internal Revenue Service and the Florida Department of Revenue, including the preparation of Private Letter Rulings and Technical Assistance Advisement requests. He has also testified before the U.S. Tax Court. Related to his work in leading the Tampa Bay business valuation practice, Jack holds the Certified Valuation Analyst designation.
Jack's broad industry experience includes automotive, retailing, distribution, manufacturing, real estate development and construction and professional service firms. He has also assisted high net worth individuals with income, estate and succession planning. Jack has made numerous presentations on tax matters to business and community groups.