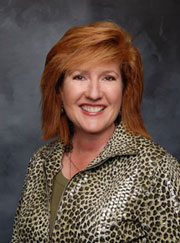 100 E Madison Street., Suite 302
Tampa, FL 33602
Phone: (813) 341-1250
Fax: (813) 200-3633
Penny@Links-Financial.com
Penny Parks is a seasoned banker with more than 20 years of experience in corporate
and real estate debt financing. Her banking career has included senior positions with
Bank of America, Northern Trust, and the Royal Bank of Canada's U.S. subsidiary.
In her present role as President of Links Financial, LLC, Penny helps business owners, real estate developers and investors to obtain business loans.
Links Financial's services include: Identification of the most appropriate financing
program for the client, referrals to individual bankers, client advocacy during the entire debt financing process and consultation for business turnarounds. The firm also assists with determining a company's appropriate capital structure and financing, structuring partner buyouts, developing succession and wealth transfer plans, and forecasting financial budgets.
Penny has an undergraduate degree from Wake Forest University and an M.B.A. from the University of Tampa. She serves as President of the Executive Women's Golf Association Board of Directors, President of the Tampa Bay Chapter of the Association for Corporate Growth, Board Member for the CEO Council of Tampa, and Board Member for the Women Executive Leadership. She is an active member of the Board of Fellows of the University of Tampa and the Commercial Real Estate Women of Tampa Bay. She was appointed to serve on as a Board of Governor for the Florida Automotive Joint Underwriting Association.